NASH: Neuro-inspired ArchitectureS in Hardware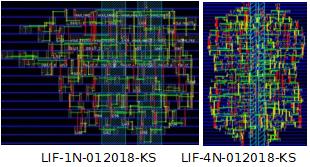 Hardware implementations of spiking neural network systems are efficient and effective methods to provide cognitive functions on a chip compared with the conventional stored-program computing style. The challenges that need to be solved toward building such a neuro-inspired computing paradigm with a massive number of synapses include building a small-size massively parallel architecture with low-power consumption, efficient neuro-coding schemes, and lightweight on-chip learning algorithms. In addition, traditional direct neuron-to-neuron interconnection based on a shared-bus is not scalable. Therefore, the above constraints make the deployment of neuro-inspired (brain-like) IC a challenging on-chip interconnect problem, where a balance between scalability and biological real-time requirements needs to be achieved.
Our goal in this project is to research and develop an ultra-low-power neuro-inspired spiking massively multicore Chip/SoC based on new deep neuronal algorithms and scalable interconnects. We are researching and developing FPGA and ASIC Chips/SoCs for vision and learning in adaptive autonomous vehicles and mobile land/aerial robots. We are also exploring innovative hardware (i.e., memristor) based low-power circuits for learning on-chip.
On-going sub-research topics
Memristor Spike-based Deep Learning & Stochastic Spiking in Large-scale Neuro-inspired Chip
Energy-efficient Adaptive Neuro-inspired Vision Chip for Autonomous Vehicles and Mobile Land/Aerial Robots
Related Publications
OASIS-2: Fault-tolerant Scalable On-chip Interconnects for Adaptive Neuro-inspired Chips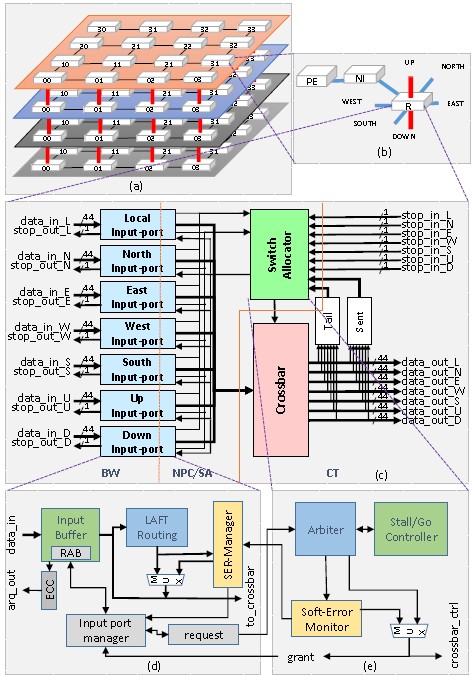 Future System-on-Chip (SoC) will contain hundreds of components made of processor cores, DSPs, memory, accelerators, and I/O all integrated into a single die area of just a few square millimeters. Such complex system/SoC will be interconnected via a novel on-chip interconnect closer to a sophisticated network than to current bus-based solutions.This network must provide high throughput and low latency while keeping area and power consumption low.
Our research effort is about solving several design challenges to enable such new paradigm in massively parallel many-core systems. In particular, we are investigating fault-tolerance, 3D-TSV integration, photonic communication, low-power mapping techniques, low-latency adaptive routing. Our current target application is adaptive neuro-inspired chips for autonomous vehicles.
Related Publications
Patent: 特許第6284177号(登録日2018.2.9)

ベンアブダラ アブデラゼク,

「誤り耐性ルータ、これを使用するIC、及び誤り耐性ルータの制御方法」

[A fault-tolerant router, an IC having the same, and a method for controlling the fault tolerant router,"], 特願2013-262523, Japan

Khanh N. Dang,  Akram Ben Ahmed, Yuichi Okuyama, and Abderazek Ben Abdallah, "Scalable Design Methodology and Online Algorithm for TSV-cluster Defects Recovery in Highly Reliable 3D-NoC Systems", IEEE Transactions on Emerging Topics in Computing, 2017 (in press). DOI: 10.1109/TETC.2017.2762407
Achraf  Ben Ahmed, Tsutomu Yoshinaga, Abderazek Ben Abdallah, "Scalable Photonic Networks-on-Chip Architecture Based on a Novel Wavelength-Shifting Mechanism", IEEE Transactions on Emerging Topics in Computing, 2017 (in press). DOI: 10.1109/TETC.2017.2737016
Khanh N. Dang, Akram Ben Ahmed, Xuan-Tu Tran, Yuichi Okuyama, Abderazek Ben Abdallah, "A Comprehensive Reliability Assessment of Fault-Resilient Network-on-Chip Using Analytical Model", IEEE Transactions on Very Large Scale Integration (VLSI) Systems, Vol.

 25

, Issue: 11, pp. 3099 – 3112, Nov. 2017.  DOI:10.1109/TVLSI.2017.2736004